Losing teeth can have a serious impact on your life. Gaps in your smile can reduce your ability to eat, speak, and smile confidently.
At Dental Group South in Stockbridge, GA, we offer dental implants as a secure and lifelike option for replacing missing teeth.
Find out why patients in the greater Atlanta area come to Dr. Vernon W. Greene for dental implants...
What Are Dental Implants?
Artificial Tooth Roots
Dental implants are posts that are surgically anchored into the jawbone and serve as artificial tooth roots. The implants are made from titanium and other biocompatible materials. After surgery, the implant fuses with the bone, a process known as osseointegration. When this is complete, the implants are stable enough to support restorations.
Support for Replacement Teeth
After osseointegration, an abutment is placed on the implant post to anchor a crown, bridge, or set of dentures. This implant-supported restoration is custom crafted to the patient. In addition to being durable, the implant restoration will look just like your natural teeth. Dental implants allow patients to bite, chew, speak, and smile like normal.
Let's dive into how implants work...
Implants Offer Advanced
Longevity and Stability
A Lifetime of Benefits
Crafted from biocompatible titanium, dental implants fuse with your jawbone to create a stable result. With proper care, these posts can last 40 years or more.
Improved Jawbone Health
By replacing both your teeth and their roots, implants prevent your jawbone from shrinking as the result of tooth loss, maintaining your oral health and facial features.
A More Confident Smile
Dr. Greene offers dental implants because of their unrivaled stability. With implants, you can feel confident in your ability to eat comfortably, speak clearly, and smile with confidence.
Implants Can Prevent
Jawbone Atrophy
When your natural teeth are in place, the roots stimulate the jaw and ensure that the bone tissue remains dense and healthy. Without tooth roots, the jaw begins to shrink, or atrophy, which can affect the stability of remaining teeth and change the shape of your face.
Dental implants are the only tooth replacement option that prevents atrophy, which is why dentists often suggest them to patients who are missing teeth. The titanium posts act as artificial tooth roots, improving both the stability of your restoration and the health of your smile.
Do You Suffer from Tooth Loss?
Find Out If Implants Are Right for You
Dr. Greene is one of the most experienced dentists in the greater Atlanta area. He has provided high-quality dental care for more than 40 years. Thanks to dental implants, he can restore and rehabilitate smiles for patients who are missing one tooth or multiple teeth. Partnering with a trusted periodontist, Dr. Greene will help craft durable implant restorations that blend in seamlessly with your smile.
If you want to learn more about dental implants, we encourage you to contact Dental Group South online. You can also reach our Stockbridge dental office by phone.
Contact an Experienced Dentist
"Love the professionalism and personal approach."
Five-Star Dentistry in the Greater Atlanta Area
Dr. Greene is the best dentist ever. I have been going to him for 25 years. He is more than experienced. He is very kind and understands the patient needs very well. I give him 5 stars.
View On Google
I moved to the area a few years ago and kept my dentist in north ATL as I couldn't find any good dentist here. But now after giving it a shot with Dr. Greene - best experience ever!! Love the professionalism and personal approach. Lori did a great job with such a gentle yet thorough cleaning. We'll be sure to be back
View On Google
Tooth Loss Is a Common Issue
Many Adults Face
We recommend implants to address several conditions...
Crowns, Bridges,
and Dentures
Picking the Right Implant Restoration
The extent of your tooth loss will determine the ideal implant restoration to use. A person missing just a single tooth or a few isolated teeth would benefit from an implant-supported crown. Extensive tooth loss would best be treated using bridges or dentures. During your visit to our Stockbridge dental practice, Dr. Greene will assess your candidacy for dental implants and discuss which restoration is right for your needs.
There are four main requirements for dental implants...
Are You Interested in Dental Implants?
Meet with Dr. Greene for a Consultation
Dental implants have so many benefits for people who are missing teeth. Dr. Greene can tell you if implants are the right treatment option for you. If you live in the Stockbridge area and would like a strong and long-lasting solution to tooth loss, we encourage you to contact Dental Group South online or reach out to us by phone.
Call an Experienced Dentist
"I have been seeing Dr. Greene for 23 years"
Deep Connections to the Greater Atlanta Area
Dr. Greene, Lori, and his entire staff are great. I have been seeing Dr. Greene for 23 years and, obviously, I have been very pleased. The team at Dental Group South is very professional, helpful, attentive, and friendly. I would highly recommend Dr. Greene.
View On Google
Dr. Greene and his staff make dental care quick, easy, and painless. I've had a plethora of horrible experiences from childhood onward, and this is the first dentist office that I am not terrified to visit! Erin (hygienist) does an excellent job cleaning my teeth and my daughter's (age 6), and Lori does the same for my fiancé. Our family in McDonough also uses them! They accept most major dental insurance, but we actually use the Carefree discount plan and pay cash. They do not recommend unnecessary procedures and are transparent about their fees.
View On Google
Dental implants may reduce the need to replace your restoration...
Implant-Supported Restorations Often
Last Longer Than Traditional Options
Traditional bridges and removable dentures are common treatments for missing teeth. These types of restorations are often more affordable than dental implants. However, conventional restorations are more likely to need replacements and repairs. Traditional dentures, in particular, require frequent relining and adjustments.
In contrast, bridges and dentures supported by dental implants offer advanced stability and longevity. Implant-supported dentures maintain the shape of your jaw and require significantly fewer adjustments, saving you time, frustration, and money.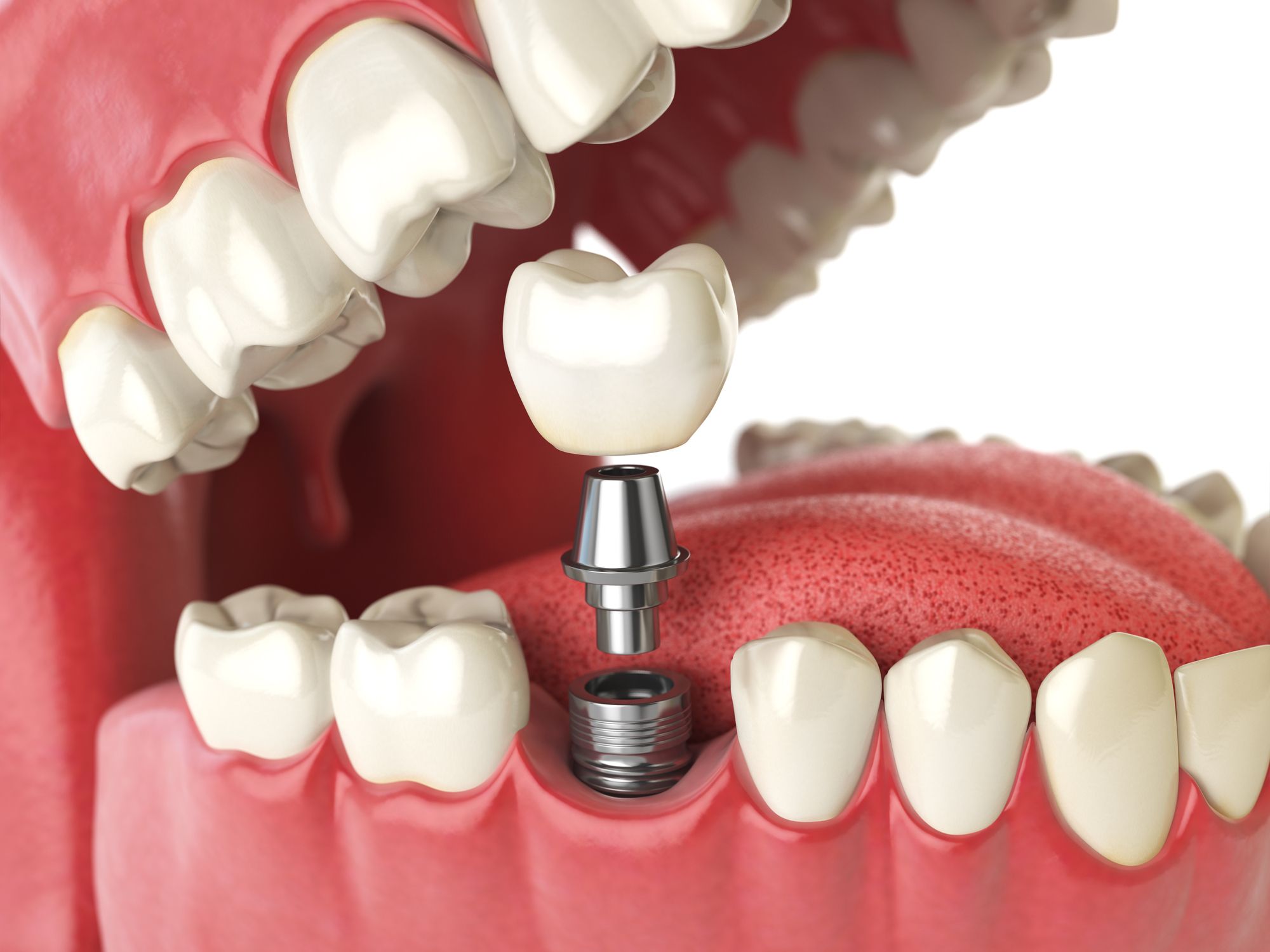 The Dental Implant Procedure
A Guide Through the Process of Getting Implants
When getting dental implants, the total treatment time spans several months.
Additional
Implant Procedures
Bone Grafting Surgery
If a patient has experienced jawbone atrophy but is still interested in dental implants, they can undergo bone grafting surgery. Bone grafting uses real or synthetic bone tissue to build more density along the jaw, which will give dental implants the structure needed to succeed. Keep in mind that bone grafting surgery requires its own months-long healing period that must be completed before the first implant surgery.
Dental Implants Can Change Your Life
Schedule an Appointment for More Information
Implant-supported crowns, bridges, and dentures can completely revitalize your dental health. If you suffer from tooth loss and want to experience the benefits of a fully restored smile, Dr. Greene can help you. To learn more about implant dentistry and if it's right for you, contact Dental Group South online. You can also reach our office in Stockbridge by phone.
Call a Dentist You Can Trust
"I can't recommend them enough."
Patient-Centered Dentistry in Stockbridge
I've been a patient for well over a decade now. This is NOT a corporately owned business, which is a major plus for me!! The staff is always friendly and professional. They are truly concerned about your needs and always have the right solutions. The equipment used is state of the art and the facility is always clean and bright. If you are looking for a dental practice, I highly recommend your joining this family.
View On Google
Trust me when I tell you, that I have had some horrific dental experiences. I'm looking at you McDonough Center for Family Dentistry. But once I learned that Dental Group South took my new insurance, I came right back to one of the most professional and respectful dentist offices I've ever had the pleasure of dealing with whom I have dealt with for years. I can't recommend them enough. They have saved me time, money, and, most importantly, my teeth.
View On Google
What to Expect
During Your Recovery
Following both oral surgeries, minor bleeding, swelling, and soreness are all normal. You should notice these side effects become less severe in the days after the surgical procedure.
You should avoid hot foods and beverages for the first 24 hours after oral surgery. You should also avoid drinking from a straw until advised otherwise. The suction created in the mouth can negatively affect sutures and blood clots around the surgical site. Eat soft foods for the first few days of healing, and avoid chewing around the surgical area if possible.
Be sure to brush your teeth and floss regularly, but be delicate, especially around healing gum tissue. Oral antibiotics and antiseptic mouthwash may also be prescribed to help fight infection in the early stages of recovery. You should be able to return to work two or three days after surgery, but avoid any major physical exertion until you are cleared by your dentist.
What to Do
in Case of Emergencies
If you experience severe pain and swelling, excessive bleeding, or a worsening of any post-op side effects, it's important to contact us as soon as possible. We can address any urgent issues that develop during recovery and help prevent complications.
Studies have found that dental implants are built to last...
"Friendly, professional, excellent care, and honorable."
A Stockbridge Dentist Who Cares Deeply About Your Health
Excellent service. Friendly, professional, excellent care, and honorable. No complaints. Would recommend to family and friends.
View On Google
The staff is very friendly and caring. I referred them to my girlfriend and we made an appointment for the same day. She was very happy with the work and the way she was treated. Thank you!
View On Google